As beer drinkers, we live in heady times. London now has 80+ breweries and numerous exciting venues and events. Another sign of beer's unstoppable rise is the number of independent bottle shops that the capital boasts, bestowing upon us the gift of drinking great beer from here, and across the world, at home.  It was with this in mind that I dusted off my passport and travelled south of the river to meet the man behind the best shop in Balham (as voted for by the readers of Time Out), James Hickson.
I wasn't headed to Balham, however, but to Clapham, where a second branch of We Brought Beer opened last month. I arrived feeling somewhat fuzzy-headed owing to the previous day's shenanigans, which culminated in a live recording of The Beer O'Clock Show at another estimable bottle shop, Hop Burns and Black. We Brought Beer Clapham is an impressive space – as well as the main shop with its growler station and shelves and fridges heaving with bottles and cans, there's a garden and an upstairs tasting/events room. After introductions (and once Scout, James's pug, had decided I was welcome), we took our seats and I kicked off the discussion by asking James what was his beer "eureka moment" was.
"Punk IPA to be honest. I first saw it on the shelf in my local Tesco, and was immediately attracted by the bright, vibrant and distinctive packaging. It was a real 'wow' beer." So impressed was James that he immediately went online to learn more about the plucky young Scottish brewery. Noting that Brewdog was heavily influenced by US beer, on his next trip to the supermarket he picked up a Sierra Nevada Pale and Flying Dog Gonzo. "The Gonzo blew my mind," he adds. "I'd never had a stout like it, it was so sweet, rich, creamy and chocolatey, and for a 9% beer was ridiculously priced at £2.90. From then on I was like 'right – what else can I find, and where can I find it'."
Working at Innocent Smoothies at the time, this beer epiphany led James to a conclusion."I immersed myself in beer – there was so much to taste, to try and to see, and it was then I decided I wanted to work in the craft beer industry." Having come to this resolution, with no little swagger, James emailed Brewdog co-founder James Watt, asking if he needed anyone to head up sales in London. "I told him 'at the moment I'm selling smoothies but I'd rather be selling beer'." It worked. Starting in January 2012, James's role involved identifying potential sites for new Brewdog bars, which was a distinct advantage when he decided he'd like to open one of his own. However, although he got as far as completing a business plan, he soon decided against it. "Opening a bar is incredibly expensive as well as a massive risk, and the fact that there were so many great bars already out there was also a consideration." Similarly, he had plans to open his own brewery, before coming to the conclusion that like bars, London had an abundance of breweries. What he wasn't satisfied with, however, were his options when it came to buying takeaway beers. He resolved to open a bottle shop, one that was close to home in Balham not only out of convenience, but also because there was nothing like it in south-west London at the time. "We're starting to get some cool stuff now, but I've lived here all my life and it's sometimes frustrating as the cool stuff usually goes to Shoreditch or Islington. So that was the lightbulb moment: I could open a bottle shop, and it could be a really good bottle shop."
Moving the conversation on, I wanted to know what We Brought Beer's demographic is. Is it overwhelmingly beer perverts, curious locals, or both? "We get people coming to the shop who may have seen on Twitter that we have a particular beer in, or just want to check us out in the same way I'd go over to Clapton Craft or Hop Burns and Black before I opened the shop. But as it stands it's very much a local customer base, which I really like because you get the same faces in. It's a bit like a bar that way – it's almost like a pub atmosphere at times. I also like that our client base isn't purely beer geeks who know what they want, but also customers who are curious about the beer scene and want to explore it. It's more interactive. Of course, with the high-end stuff you need the beer geeks to buy it, but we're beer geeks too, which is also why we get those beers in."
The shop stocks an impressive 400 different beers, and I was curious about the business of wholesale and distribution. "Everything from London comes direct, which is important for us in terms of building relationships. When we started we bought from wholesalers but I soon realised the importance of buying direct; the breweries got to know us by coming to the shop when dropping off their beers and it meant we could get them down for meet the brewer events and so on. Anything outside of London tends to come from distributors, but what we buy comes down to space actually – the team has been ridiculously innovative in finding space to store beer. I'm really bad – you get sent lists from the likes of James Clay, Pig's Ears, the Bottle Shop, Utobeer and Vertical, and I just go 'okay I want that, I want that, I want that', and these guys have to find somewhere to put it!"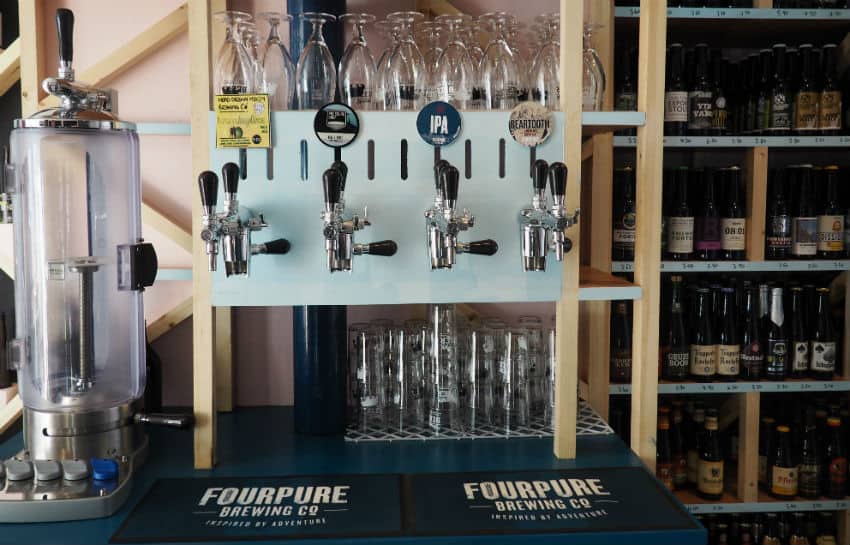 As well as existing stock, bottle shops get sent samples from new breweries, and James has spoken in the past about the poor standard of many of the beers he's been sent. I asked him whether he he felt some young breweries were trying to run before they could walk. "Yes, unfortunately I do. I would never begrudge someone from following their dream to open a brewery – I'd like to open one one day, who wouldn't if you're into beer? But we get a lot of samples, and some of them just aren't good enough. It's not just a case of not liking a beer; sometimes you'll open one and it's a gusher, or it has no carbonation at all and so on." I told James that this issue affects customers too; I've certainly had to pour beer down the sink, most recently from a brewery that had been established for some months yet put out a completely flat beer. It's an important issue – on the one hand there's a reluctance to burst a new brewery's bubble, while on the other hand it's only right brewers get bad as well as good feedback. For James, it's better if a brewery saves more for a better kit or to hire a competent brewer, rather than rush to join the party with an inferior product. If you do get a sub-standard beer, what's important is how you convey your feedback – in my case a direct message seemed more appropriate than Tweeting to all and sundry about it.
As we were discussing beer quality, I wondered whether James had considered refrigerating all of the beer at both sites, particularly lagers and hoppy pales and IPAs. "It's a tricky one. We have a cold room over at Balham and three fridges with a couple of hundred beers in them, with the others on the shelves. The simple answer is if we had the space to do it I would like to do the whole thing. What we do is try to keep the beer as cool as possible when it's not in the fridges – we plan to get some UV on the windows, and if we have products in the windows, we try to use cans or brew kits, and we certainly make sure we rotate the displays frequently. Also, Balham in particular is pretty small so our stock only tends to be on the shelves for two or three weeks, and we make sure the more hop-forward IPAs and so on are in the fridges." This issue is fundamental to beer; the more interest in beer grows, the more customers will demand it is treated with respect. As more bottle shops open, failure to do so may mean losing out in terms of custom.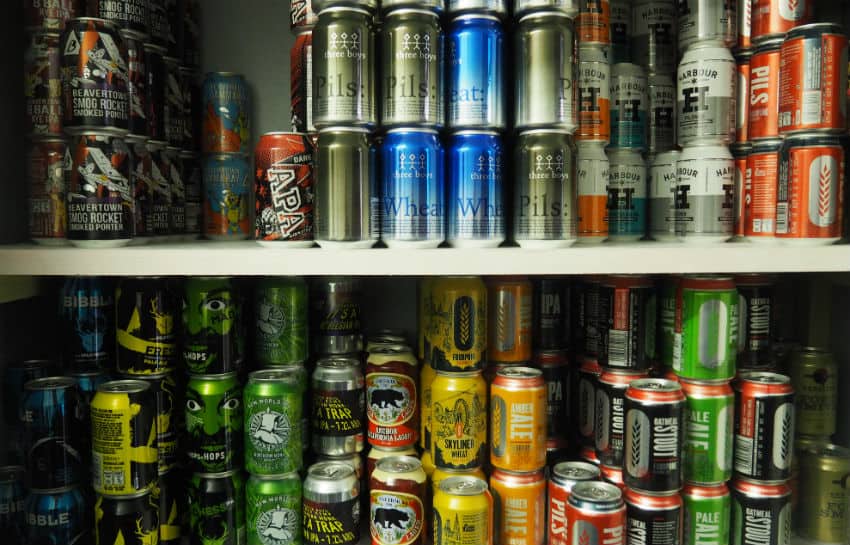 With my hangover beginning to kick in, I wound things up by asking what's next for We Brought Beer. "We've been open here two weeks and are really excited to get more tastings happening. In terms of future plans, I definitely want to open more sites, in fact we're already looking at other areas in south and south-west London, places like Acton, Shepherds Bush, Chiswick." James also hinted that big plans are afoot for one if the sites in the next 18 months, something that will 'up the ante' of what We Brought Beer in particular and bottle shops in general can do.
Exciting times indeed. There's surely plenty of scope for more bottle shops in London, and while I may not be a regular visitor to We Brought Beer (I'm a north Londoner and really lazy), it's good to know that they and others are committed to bringing more and better beer to Londoners.
Thanks to James, marketing, events and project management guru Ben Watts-Stanfield and Scout the pug for making me so welcome – cheers!